If you have only very small place but want to use it as double area ,just come to us, we can optimized your room with the best solution and worthy of cost . The following case tells you it is totally a truth instead of dream.
When Peter comes to us and told us he has a small room 7meter wide by 20meter long., which is going to build up a mezzanine floor for his bikes. Weight capacity 300kg per square meter to show bicycles and walking persons, our engineer worked out at least 20different solutions for choices. Finally the following solution was fixed .To help the customer improving the showroom space and outlook. we take the most shining grey powder-coating for the whole flooring , steps, handrails. All the flooring panels take the anti-skipping pattern steel panel, which can be very safety when customers are walking on it even the flooring is wet. For enhance the safety , the loading gate designed with more bars to prevent any person can get in from the gap of the bars. Finally , we design a connecting walking way which is connected the mezzanine and the office behind by a rolling door and pass way . It is very convenient for staffs to meet the customers from the second floor office.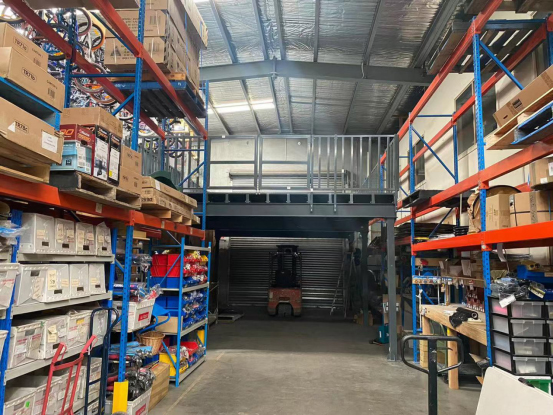 For the installation processing , we provided full support from the very beginning of each components.All parts are labeled by names and items numbers which are totally matching with the installation drawing we provided. By doing so , the installation processing can be very easily to recognize and find out the part location and how to locate and connect with each other, which is great help to improve the installation efficiency and correction. It takes 3days for 5staffs to finish this installation job smoothly.
---
Post time: Jan-26-2021