Cantilever racking is applied in warehouses and distribution centers to store bulky, lengthy or oddly shaped objects such as steel beams, lumber, pipes, corner beads, gypsum board and similar construction materials. Cantilever racking systems are not supported vertically on the outside to prevent obstructions and to facilitate access to the building materials being stored.
All cantilever racking systems must have four main components.
●Columns, which can be single- or double-sided, depending on the type of load being stored
●Straight or tilt arms of various lengths to hold the stock in place and prevent it from falling off the equipment
●Support devices to hold the entire cantilever racking system in place and add stability
●One base
Cantilever racking systems are versatile and can be customized for installation in virtually any warehouse facility. They provide maximum vertical and horizontal storage capacity optimization by simply adjusting the height of the shelves and making sure there is enough clearance space at the top or moving the storage arms to free up more space.
How do I properly install a cantilever racking system?
When installing a custom-designed cantilever racking system in your facility, it is important to follow the manufacturer's instructions and recommendations to the letter. Follow all safety standards and read instruction manuals carefully before beginning the installation process. Most importantly, ensure that all storage rack assembly is performed only by qualified personnel with extensive experience and knowledge of local safety standards and regulations.
Read the assembly instructions
Manufacturers of cantilever racking systems always provide detailed installation instructions that outline the safety standards, regulations and precautions to be taken during the process. They also recommend that installation be performed by qualified personnel only to prevent injury or death on the job. Be sure to read the instructions carefully and follow them step-by-step to ensure proper installation.
Double check that you have everything you need
Instruction manuals include a list of all materials and components needed to install a cantilever racking system. While most parts and hardware are provided by the manufacturer, certain necessities, such as tools or minor components, may not be included. A tape measure and outline chalk are among the most common tools you will need to have on hand.
Take an inventory of all the tools and components needed for your installation to ensure that nothing is missing. If parts that should be supplied by the manufacturer are missing or damaged, you can contact them directly to send you replacements.
Prepare the space
Clear the space where the cantilever racking system will be installed. Remove obstructions and potentially hazardous materials to eliminate the risk of injury or damage.
Determine rack configuration
Measure the dimensions of the aisle or space where the rack will be located to determine the best setup and positioning to complete the rack. Draw a true and accurate chalk outline to be used as a reference point throughout the installation process.
Check the components
Before starting the installation process, check that all components are in proper working condition. Look for scratches, dents and signs of wear or rust that could hinder the performance of each component or throw the entire cantilever racking system out of balance.
Assemble one bay at a time
Using the instruction manual and diagrams provided by the manufacturer, assemble the bays one at a time. Start by laying out the components of each bay on the floor to see how they fit together. You should have two columns, bases, and the correct number of arms needed.
Install additional bays as needed
Depending on how much storage space you need and the size of your cantilevered racking system, you may need to assemble and install additional bays to complete the structure and support the starting bays.
Installing racking or decking
Custom racking and decking can be added to your cantilevered racking system if additional support is needed for a variety of load sizes and weights.
Install bracing and anchors
Bracing and anchors are required to stabilize cantilevered racking systems. To maximize stability, bracing sets are bolted between two uprights and anchors are bolted to the floor to hold the structure in place.
Where to buy high quality cantilever racking in China
Aceally is one of the leading suppliers of high quality and professionally designed custom cantilever racking systems in China. We stock a wide range of conventional and structural cantilever racking systems that are ready for quick shipment. Contact us today for a quote.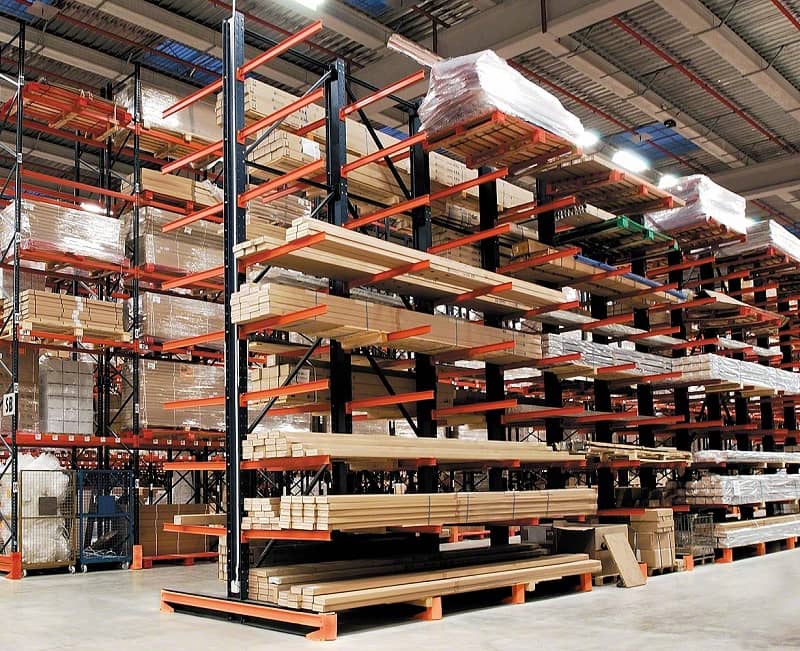 Further Reading:
How to use the warehouse capacity safely and efficiently?
Five Cantilever Racking Health Checks
Method of calculating the height to width ratio of pallet racking and cantilever racking
Nine frequently asked questions about pallet racking systems
Is a double-deep pallet rack suited for me?
---
Post time: Apr-11-2022