In every warehouse, it is critical to utilize every square inch of space. If you are running out of space but still need additional space, consider "moving up" with a warehouse mezzanine system.
A warehouse mezzanine is a raised platform installed between the floor and ceiling that will add space by utilizing the vertical space already in the facility.
Warehouse Mezzanine Benefits and Ideal Uses
Expanding the footprint
Transferring operational costs while allowing employees to adjust to commuting can be costly. By adding a mezzanine system to the current location, it allows companies to retain local customers and reduce construction costs. For larger distribution centers, more than one level of mezzanine can be added to truly maximize available space.
Viewpoint
Mezzanines can also be the perfect vantage point to ensure warehouse security and efficiency.
Employee Area
The mezzanine can provide an area within the warehouse for employees to live in while in the warehouse
Product storage and distribution
Mezzanines can help increase storage and distribution capacity within a warehouse. They allow for more organization and increased storage space.
3 types of warehouse mezzanines
There are currently three main mezzanine options to consider. Aceally material handling experts can evaluate your operation and let you know which options are best for you.
Freestanding Mezzanines
Freestanding mezzanine systems or structural mezzanines maximize floor utilization and provide easy assembly and disassembly. The large span design eases traffic flow under the structure and is ideal for parts and product storage and conveyor support.
Freestanding mezzanines are the most flexible type of mezzanine. With the exception of a few anchors, many require minimal structural changes to the building to install and are portable and flexible enough to fit into any space.
Rack Support Mezzanine
Rack-supported mezzanines provide additional storage area above or between pallet racks. This is also referred to as a walk-around. This system allows multiple locations within the system for simultaneous loading and unloading of pallets.
Shelf Support Mezzanine
The shelf-supported mezzanine system is ideal for extending storage of smaller items above the shelves. Shelving serves as the base for mezzanines and is an economical way to expand available space. However, it is the least flexible option for reconfiguration.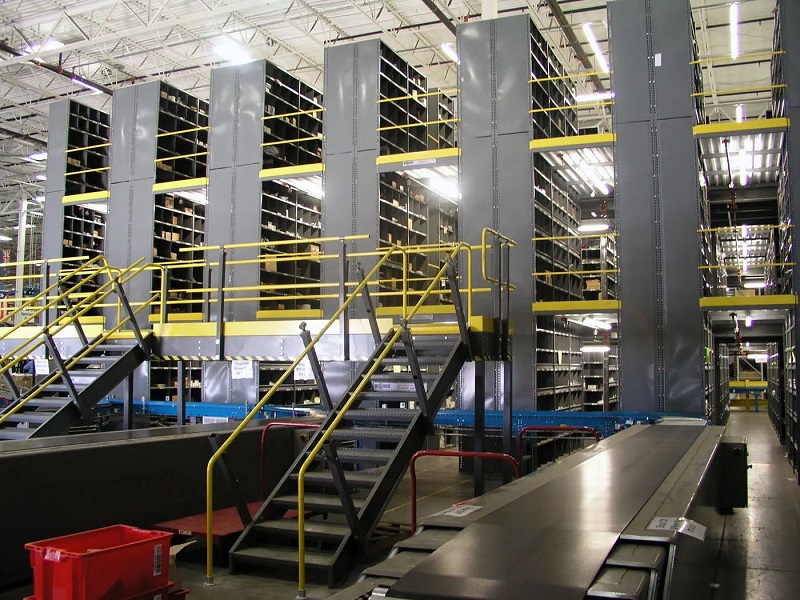 Further Reading:
5 Reasons to Use Slotted Angle Racks
How do I install a cantilever rack?
How to use the warehouse capacity safely and efficiently?
Five Cantilever Racking Health Checks
Method of calculating the height to width ratio of pallet racking and cantilever racking
---
Post time: Apr-14-2022