Cold Storage Racking | Radio Shuttle Pallet Racking
Product Detail
Product Tags
The relationship between cold storage racks and shuttle racks
Cold storage rackings are rackings placed in cold storage to store goods, generally based on shuttle rackings as a prototype, and then carefully built according to the characteristics of cold storage. Cold storage racks must be able to withstand low temperatures and humidity, which is a relatively harsh environment for steel products, so cold storage racks are a specialized class of special racks.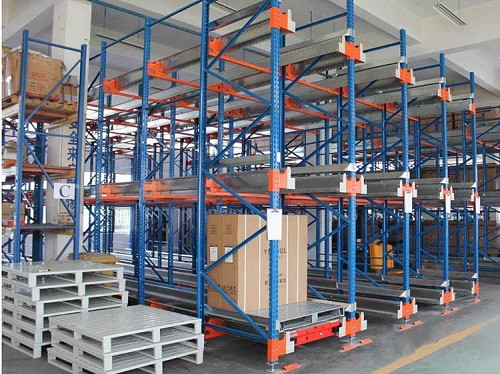 Shuttle racking features
Shuttle racking is based on the through racking in terms of shape and working principle. Shuttle shelving does not require a special operating channel for forklifts when working. Shuttle shelving uses shuttle carts to reach goods in and out of the shelves.
Shuttle shelving system is a high-density storage system consisting of shelves, carts (shuttle) and forklifts, which can significantly improve the utilization rate of the warehouse. At the same time, the semi-automated operation can greatly improve the work efficiency.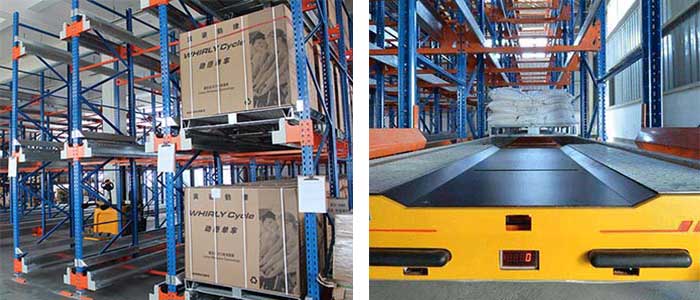 Advantages of shuttle racking
Convenient storage and retrieval
Stocking: Cargo is placed by forklift at the forefront of the racking aisle rail, and a shuttle operated by radio remote control can carry pallet cargo on the rail.
Pick-up: The shuttle moves the pallets from the depths of the racks to the front end of the racks, and the pallets are removed from the racks by a forklift.
High density storage warehouse with high utilization
The complete warehouse solution consists of shuttle pallet racking with a certain number of group shelves and a system for pallet entry, transport and storage by shuttle. The space utilization rate is more than 80%.
Reduce accidents and costs.
Using automatic shuttles instead of forklifts in the storage process not only reduces the risk of accidents, but also reduces maintenance costs due to damage to the shelves.
Flexible and versatile
The system works as both a FIFO and a LIFO, even in freezers with temperatures up to -30°C.
---
Previous:
A type blue crate with lid
---
Write your message here and send it to us