Galvanized steel angle shelving for sale
Product Detail
Product Tags
Galvanized angle steel shelving means that the shelves are mainly made of galvanized angle steel.  Angle steel, commonly known as angle iron, is a long strip of steel with two sides perpendicular to each other in an angle shape. There are equal and unequal angles. The two sides of equal angle are equal in width.Its specifications to the side width × side width × side thickness of the millimeter table. Such as "∟30×30×3″, that is, the side width of 30 mm, the side thickness of 3 mm of equal-sided angle steel.  Also available model, the model number is the number of centimeters of side width, such as ∟3#. Model does not indicate the size of different side thicknesses in the same model, and thus in the contract and other documents will be the angle of the side width, side thickness dimensions to fill out the complete, to avoid using the model alone.
Galvanized angles are widely used in various building structures and engineering structures, such as house beams, bridges, power transmission towers, lifting and transportation machinery, ships, industrial furnaces, reaction towers, container racks, and warehouses.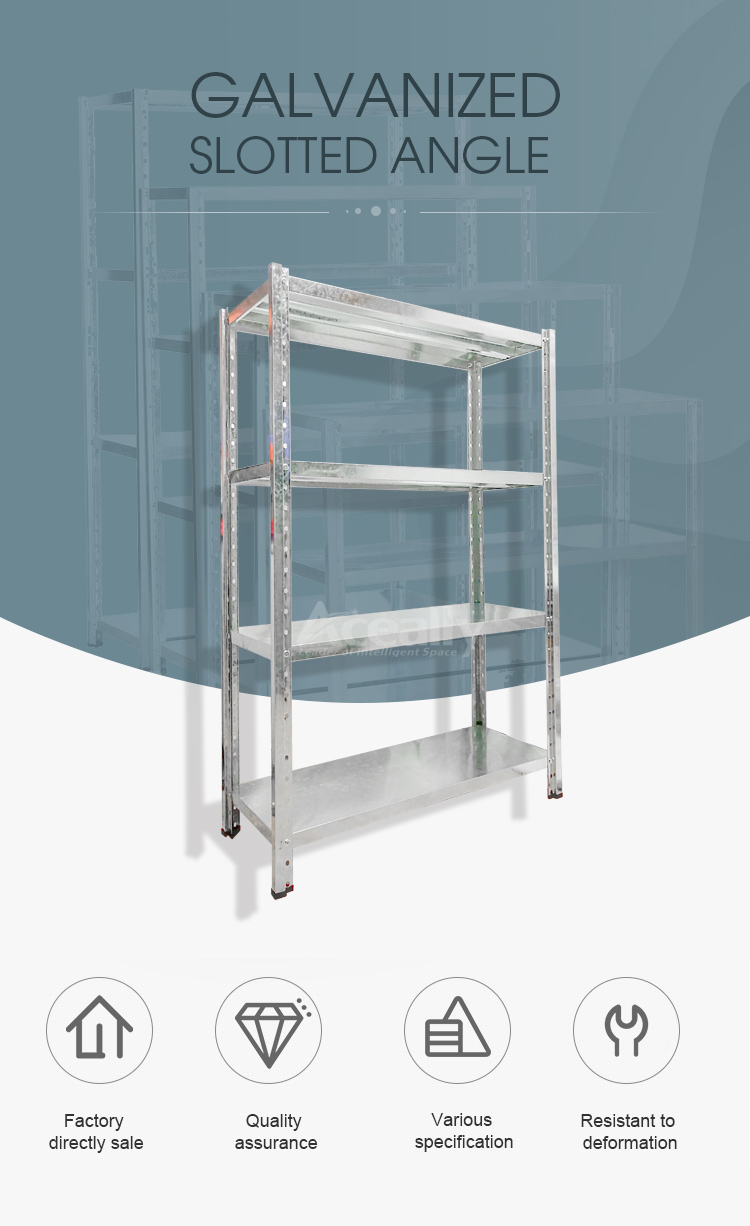 Specification of galvanized steel angle shelving
Product Name

Specifications(mm)

Thickness(mm)

Length(mm)

Capacity(lbs)

Angle Post(Equilateral)

35*35   36*36




38*38   40*40

4.5~2.0

H24″-144″

1000~3000

Angle Post(Inequilateral)

60*40




57*37

1.5~2.0

H60"~192"

1500~3500

Shelf(without support)

900*300




900*400




900*450




900*600

0.7~1.0

 

 

Shelf(with support)

900*300




900*400




900*450




900*600

0.7~1.0

 

 

Corner plate

70*70

0.7

 

 
Features of galvanized angle iron shelving

 
-4 Tier Galvanized slotted angle shelf
-Each shelf can hold up to 100KG
-Easy slot together structure
-High quality and good package and ship on time 
Galvanized Angle Steel Shelving's Application

 
Galvanized Angle Steel Shelves are designed to be used as economical shelving, racking, workbench, cart, ladder, table or any other type of structure to your own specifications. Multi-tier shelving slotted angle shelving can be adopted to double or treble your storage space. Complete with catwalks and stair cases and railings.
---
Previous:
Warehouse Slotted Angle Iron Shelf
---
Write your message here and send it to us