Metal Storage Boltless Rivet Shelving Parts
Product Detail
Product Tags
This kind of boltless shelving assembly does not need screws, and has the characteristics of convenient disassembly and assembly. The load-bearing capacity of the shelf is ≤ 180kg per layer, which belongs to light duty shelf. According to the different rivets on the crossbeam, it can be divided into single boltless shelving and double boltless shelving.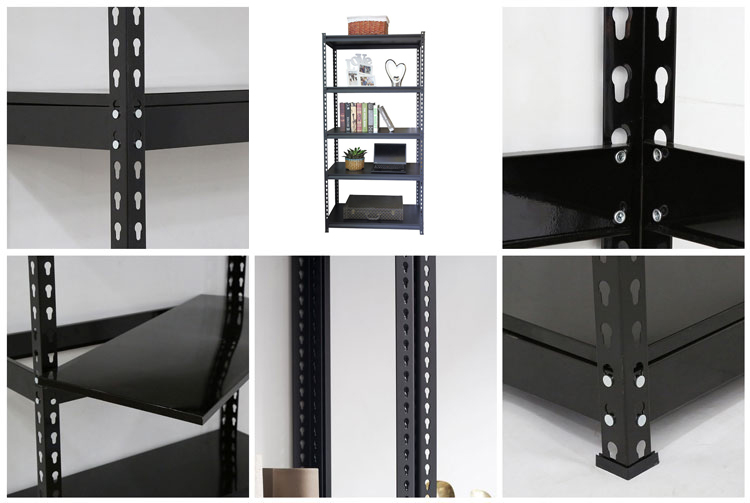 Features of boltless shelving:
1. The boltless rivet shelving parts is of snap joint structure, convenient for disassembly and assembly; the contact with the ground is equipped with plastic anchor.
2. Metal storage shelving  column: it is made of double side punched holes of equilateral angle steel. The hole distance is arranged in a straight line with a distance of 50 mm. The column hole is used to hang the laminate.
3. Boltless shelving steel plate: cold rolled steel plate is adopted to be bent and formed on four sides according to the required size. The laminate can be steel laminate or wood laminate.
4. The stand column and the steel laminate are connected and fixed by the snap pin and the triangular fixed piece.
5. After the boltless rivet shelving parts are processed and formed, they are all processed by grinding, pickling, phosphating, automatic powder electrostatic spraying, drying and other processes before assembling the finished products. The surface of the finished boltless shelving is smooth and beautiful, and the laminate can be adjusted up and down arbitrarily, which is convenient for disassembly and assembly.
---
Previous:
Metal Storage Locker
---
Write your message here and send it to us