Long span shelving has been around for decades as one of the most efficient warehouse storage systems. While it may look simple, it does 100% of the required work. So, do you want to know what long span racking is? How can it improve your business warehouse? Read this guide to learn about a practical solution for your storage needs.
What is long span racking?
Long span shelving is also commonly known as storage shelving, garage shelving, warehouse shelving, and metal shelving. In the storage industry, it refers to a shelving unit that spans a long length or has an extended length.
Long span shelving is a unique storage system designed for small to medium sized items. Products are stored and retrieved manually from bins, boxes or larger cartons. Long span shelving is available in different sizes and shapes. You can see some examples here.
Long span shelving units are made from a range of materials, such as mesh, steel or particle board. Some are designed from two or more materials. Whatever your storage requirements, long span shelving can be adapted to suit your premises and products.
Modern long-span shelving has a boltless locking system that holds the support beams in place. This system makes shelving units more durable and safer for employees than older bolt-on systems.
Four major advantages
Durable and easy to maintain
Longspan shelving, typically made of painted galvanized steel, is extremely durable and will last through heavy use, as is common in retail manual picking setups such as pharmaceutical dry goods.
The combination of strength and light weight again makes it easy to maneuver without compromising its functionality and stability. That said, any equipment movement should still only be performed by qualified installers, and Aceally can help.
The long span shelf is easy to maintain because of its simple nature and minimal need for the tools used on it – for removing and replacing nuts and bolts, etc. It is used for manual picking and is not touched by forklift machinery that would allow it to cause any serious damage, and being made of steel means that any damage it suffers can be absorbed to a large extent.
The steel construction of the shelf also means that it can be easily kept clean and hygienic, making it an ideal shelving solution for healthy and F&B products, such as manual hand picking, without the need for a forklift.
Easy to build and adjust
Long span shelves are typically bolted designs, held together with fixings and pins, making them very quick and easy to assemble. This build can be easily adapted and adjusted if redesigns or additions are needed.
The design itself is modular, allowing additions to be made at any time (provided capacity limitations are not ignored) – facility space allows – and can be reconfigured in a variety of ways, which is particularly useful for high turnover rates and multiple inventory changes in and out of the warehouse.
Easy to integrate
The built-up nature allows Longspan racks to easily integrate with pre-existing warehouse shelving, and they can easily work in concert with other types of other storage solutions to create efficient warehouses. They can also be used with different materials; most typically steel for shelving, but can be integrated with wooden walkways or steel grating.
Depending on business needs, shelving can also integrate solutions into it; for example, a section may need many low-volume but high SKU-numbered areas for items and small manual picking. In this case Ac would recommend their Shelf Partitioning System (SPS), which perfectly complements long span shelving to increase picking time, reduce product migration, and critically improve accuracy.
Cost-effective and affordable
For all its benefits, long span shelving is cost effective and affordable. With a long history of use in various fields, it has become a sustainable staple in warehouses and retail facilities worldwide due to the above points and its accessibility. The cost is reasonable at first – remember buy super cheap, buy twice – and then as further maintenance and costs grow and change, self-managed by the durability and sturdy construction of the racks, over time they largely pay for themselves. They maximize the use of storage space, which always comes at a high cost to the warehouse manager and requires little return.
So when should I use long span shelving?
If your business handles goods that cannot be stored in pallet racking, then long span shelving is the best storage solution for you. The items stored in these racking systems are items that cannot be moved using a conveyor or forklift. These items can be irregularly shaped or fragile. Tires, batteries, office supplies, etc. are examples of items you can store effectively using long span racking.
The distinguishing feature of long span shelving is that workers can store and retrieve products manually. The flexibility of these storage units makes them ideal for almost any warehouse setup that handles products that are small and light enough to be handled manually.
Remember there is no one size fits all; there are many facts to consider in order to get the best solution, including inventory and business needs. However, talk to one of Aceally's experts who will work with you to find the design of all the boxes that meet your specific needs.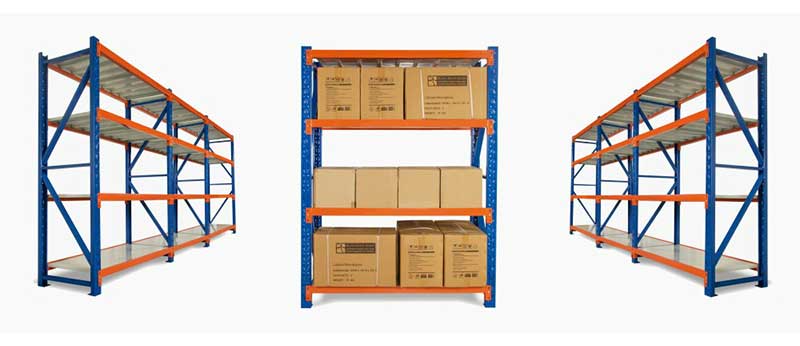 Learn More:
Heavy Duty Electric Mobile Racking System
8 Differences Between Small vs. Large Business Warehousing
Top 6 Applications for Wire Mesh Partitions in Warehouses
7 Effective Ways to Protect Pallet Racking from Damage
Three useful warehouse storage tips
---
Post time: Oct-10-2022