Adjustable Light Duty Metal Bolt Free Shelving
Product Detail
Product Tags
The light duty bolt free shelving is designed as a whole without screws, which is easy to install and disassemble. The no bolt shelving is composed of three components: column plate, cross beam and laminated plate. It is suitable for storing some light and small goods. It is a kind of laminated shelf.
The structure of light duty metal bolt free shelving is the same as that of medium duty longspan shelving, which can be disassembled and assembled by itself, and the storey height can be adjusted freely with 5cm spacing, but the material specification is relatively small, and the bearing capacity is relatively small.
The price of this boltless shelving is relatively economic, and the structure should be stable and reliable relative to the angle steel shelf, which can bear 100-200kg within 1500cm span. The surface is treated with spray molding, beautiful and tidy. Bolt free shelving systems are suitable for storing light and medium-sized goods and for manual access.
Features of Bolt Free Shelving:
1. Fully assembled structure, easy to assemble, install and disassemble.
2. The cross section of bolt free shelving material is optimized, a variety of pipes are selected, and the bearing capacity is improved.
3. The laminates are available with wood and steel plates, and the column height is provided with an adjustable hole spacing of every 50mm, which can be used according to the height of the goods.
4. The surface treatment adopts polishing, surface derusting, degreasing, electrostatic powder spraying, which can spray according to the color specified by customers, with the advantages of beautiful color, not easy to oxidize, easy to clean, etc.
5. Less capital investment, widely used in factories, shopping malls and other storage needs.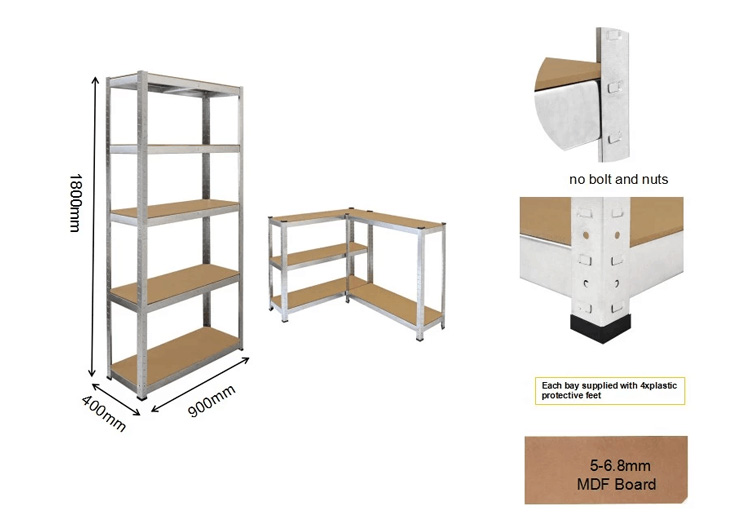 Structures of Bolt Free Shelving:
1. Shelf column: it is made of double side punched holes of equilateral angle steel. The hole distance is arranged in a straight line with a distance of 50 mm. The column hole is used to hang the laminate;
2. Shelf steel plate: cold rolled steel plate is adopted to be bent and formed on four sides according to the required size.
3. The stand column and the steel laminate are connected and fixed by the snap pin and the triangular fixed piece.
4. After the bolt free shelving parts are processed and formed, they are all polished, pickled and Phosphated, fully automatic powder electrostatic spraying, drying and other processes to assemble the finished products. The surface of the finished metal no bolt shelving is smooth and beautiful, and the laminate can be adjusted up and down arbitrarily, which is convenient for disassembly and assembly.
---
---
Write your message here and send it to us