Heavy duty gravity flow racking
Product Detail
Product Tags
Gravity racking is also called self-gravity racking and roller racking. Its track has a certain slope, about 3°, and the goods can use their own gravity to move to realize the first-in, first-out, one side in and the other side out. It is suitable for FIFO storage of large volume and similar goods.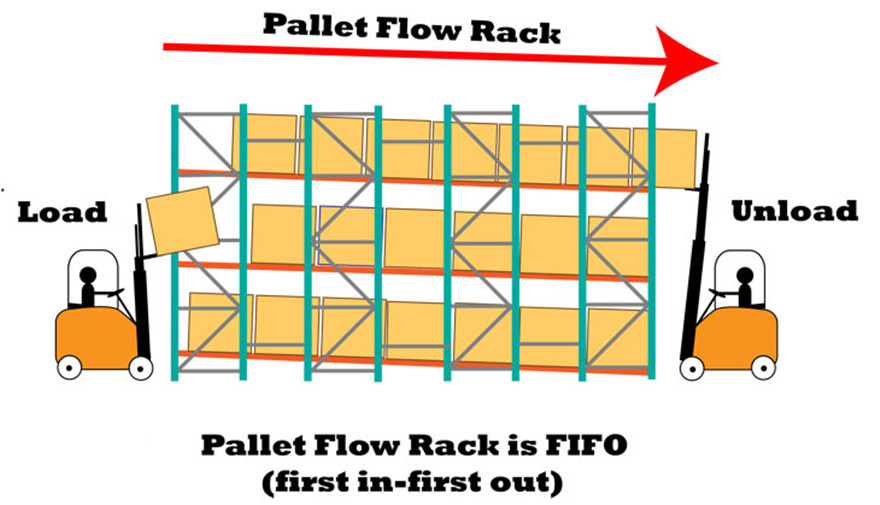 Gravity racking features
1、Cargo is deposited from the high end, slid to the low end and taken out from the low end. During the sliding of goods, there is a damper set on the chute to control the sliding speed of goods to keep within the safety range. There is a separator set at the shipping end of the chute, and the handling machinery can take out the goods at the first board position smoothly.
2、The goods follow the order of first-in-first-out. The shelf has high storage density and has flexible fit function.
3、It is suitable for storage operation with pallet as carrier, and the goods are stacked neatly, which provides a better solution for the storage of large and heavy goods, and the utilization rate of storage space is more than 75%, and only one inlet and outlet channel is needed.
4、Gravity racking is very environmentally friendly, all in non-powered form, no energy consumption, low noise, safe and reliable, and can operate at full capacity.
---
---
Write your message here and send it to us