Industrial folding wire containers wholesale
Product Detail
Product Tags
Folding wire containers
All of our collapsible wire containers are manufactured using the most advanced high-tech machinery in the industry. Each weld is precisely placed. The legs and bases are robotically welded to provide consistent collapsible wire containers with a longer life expectancy.
Few wire baskets in the industry can match the quality and craftsmanship of our wire baskets. Our wire storage containers are designed and manufactured for rugged durability and long service life. They undergo a rigorous 5-step quality control process. As a result, our collapsible wire containers offer the best value and provide years of reliable service in virtually any application.
Wire container advantages
-Optimum space utilization -Stackable 3-4 high -Increased storage density and processing efficiency
- Enhanced content identification and inventory control
- Provides better material flow – allowing you to easily handle, transport and store product
- Half drop doors for ergonomic access to stored goods
- Collapsible design for efficient storage and transportation
- Reduces costly product damage during storage and shipping
- Lightweight with low weight-to-weight ratio
- Self-cleaning – no dust buildup on wire mesh surfaces
-Many options and accessories can be added to improve return on investment
- Available in a variety of sizes and capacities.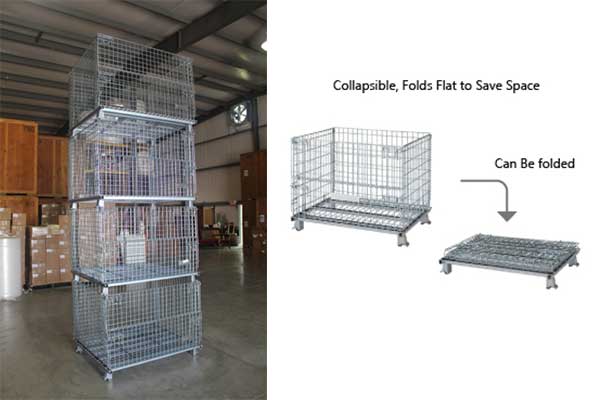 ---
---
Write your message here and send it to us