Heavy duty rack supported mezzanine floors
Product Detail
Product Tags
As you can see rack-supported mezzanine floors can be used in almost almost any industrial environment, as they have racks underneath to provide additional support. New and existing pallet racking can be used, and when they are used in conjunction with a mezzanine floor system, it can greatly increase storage capacity – even at a reasonable price. If desired, rack-supported mezzanine floors can be surfaced with wire mesh or wood to provide further stability.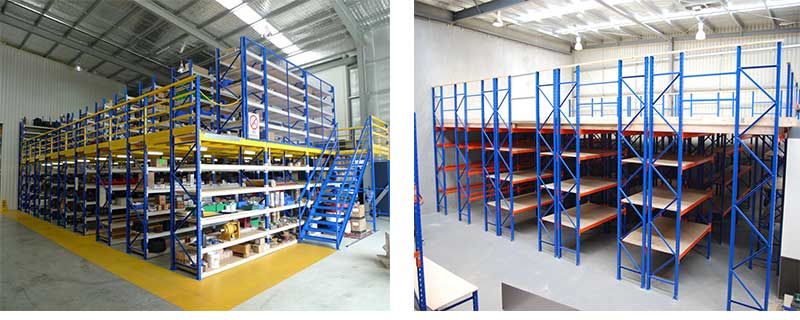 Product parameters
| | |
| --- | --- |
| Product Name | Heavy duty rack supported mezzanine floors |
| Customized Specification | Available in a range of sizes and configurations. Please call or email us and we can work together to get the most cost-effective and practical solution. |
| Upper/Lower Rack Levels | 2 levels, 3 levels, 4 levels, 5 levels |
| Rack Load Capacity | 300KG, 500KG, 700KG, 1000KG, 1500KG per level |
| Catwalk/Aisle Width | 800mm, 1000mm, 1200mm, 1500mm, 1800mm, 2000mm |
| Catwalk or Aisle Flooring Load Carry Capacity | 300KG, 500KG, 800KG, 1000KG per square meter |
| Raw Material | high quality cold rolling steel Q235B(SS400) purchased from Shanghai Baosteel Group |
| Material Thickness | 1.5mm, 1.8mm, 2.0mm, 2.5mm |
| Surface Treatment | deoil, derusting and powder coat paint finish |
| Mezzanine Colors | standard blue, orange and customized available |
| HS Code | 7308900000 |
Areas suitable for mezzanine floors.
●Locations with high ceilings or roofs and/or empty shelf space.
●New staff rooms, office areas, decks and storage requirements.
Mezzanine floors Designing factors.
● How many rack levels above/below the floor – most popular is 3-4 levels
● What is the load capacity of the racks above/below the floor – the most popular is 300-800KG per level
● What is the total height of the mezzanine supported by the racks? -The most popular is 4000-6000mm
● Stair width – most popular is 1100 mm and 13-15 treads or steps
If possible, send us your warehouse layout so that we can confirm the design of the setup for your side
Benefits of Mezzanine Flooring.
● Use of existing utilities, such as air conditioning and/or heating can still be used.
● No need to relocate premises due to lack of storage space.
● Construction of mezzanines is simple and they can be relocated to different premises if necessary.
● Up to three mezzanines are available, all of which are highly cost effective.
Services we offer.
Our free service includes consultation and example CAD layouts of your proposed rack system. Our design experts can analyze your application and find application-specific solutions for you. Get the racking system you need at the best price guaranteed. Please contact us at [email protected] for more information.
---
---
Write your message here and send it to us
Products categories