With warehouses, you can find goods carelessly stacked in every nook and corner of them. Unlike in the past, most warehouse managers today strive to streamline operations by storing products efficiently to improve supply chain efficiency, product visibility and productivity. A number of tips and tricks have been incorporated and one of the most important practices that today's warehouses are primarily implementing to ensure quick and easy inventory flow is the use of warehouse rack labels.
As stated earlier, a warehouse is a place where various goods are stored on shelves. Therefore, it is crucial to use proper shelf labels to classify goods. You can follow these steps to quickly complete the labeling process.
Learn how to mark warehouse shelves in three steps
Identifying racking types
Warehouse racking comes in a variety of options. They can be manufactured in styles you never imagined before. With such a variety of styles to choose from, it's not a good idea to blindly select a standard label to fit the purpose. For warehouse racking, one size fits all never works. For example, depending on product storage needs, racks can be very long, extending from one side or with long arms extending from a metal frame. Therefore, you must first identify the type of rack and then choose your labels.
Involve your label manufacturer from the start
Most warehouse managers make the mistake of letting the label maker go halfway. This is not a good habit. Get them involved from the planning stage. Invite them to your facility or send them a clear image of your facility and explain to them the layout and structure of the racks. Have them walk through the warehouse and view the racking layout. This helps the manufacturer to have a clear picture of the application area of the warehouse rack labels. This, in turn, allows them to produce the most appropriate type of label for their plant.
Get the right labels for the application
Consider the surface they are applied to when acquiring labels. If the need is for warehouse shelf labels that can be easily removed and replaced with other surfaces, then choose magnetic labels. On the other hand, if the shelves are subject to regular foot and forklift traffic, then choose shelves that are durable enough to stand up to wear and tear. Talk to the manufacturer to learn about the labeling options available. You can also learn about customization possibilities to get a unique label that fits the application area.
Tagging warehouse racks with key information is important for improving product visibility, ensuring safety, increasing productivity, enhancing inventory management, and more. Shelves without labels are hard to find, which in turn delays inventory movement.
More detailed steps to follow
While the steps listed above and those listed below may seem simple, they go a long way toward properly labeling warehouse shelves in less time. Ignoring these steps can lead to unnecessary confusion and delays.
Make sure the racks are ready for labeling
Applying labels to dusty surfaces is not recommended, as it can create performance and durability problems. Therefore, before applying labels, make sure to clean the surface to improve the adhesive value of the label. Also, make sure that the information printed on the label matches the stored item. If the label is incorrect, it can confuse the forklift operator or the person manually handling the load. This, in turn, can cause unnecessary delays in material movement.
Labeling from bottom to top
It is always a good habit to label warehouse shelves from bottom to top. The bottom row must carry the serial number 01, and when moving up it must be 02, 03, 04, etc. This numbering practice is beneficial when any future upgrades are made by adding rows to increase the height of the racks.
Final inspection
Because of the manual labor involved in attaching labels to rows of large racks, there may be opportunities for mistakes to be made. Placing labels upside down, placing the wrong labels, or applying them improperly are among several common mistakes made during application. Therefore, it is a good idea to have a supervisor check each row of shelves for proper labeling at the time of use. This definitely ensures that the correct application is made and there is no room for error.
Others
●Make sure the text in the label is large enough to be easily viewed.
●Choose bright colors such as yellow, red or black when printing information. This helps to make it easy to read even from a distance.
●Make the information as simple as possible so that even low-level workers can read and understand it. Complex jargon can confuse workers.
Thus, warehouse racking labels greatly help to easily and quickly select the right material from several rows of huge racks. As mentioned earlier, properly labeled shelves not only simplify warehouse operations, but also maximize worker productivity. Planning to build a warehouse with multiple shelves? Then get durable shelving solutions from manufacturers like Aceally and label them most efficiently to identify hundreds of stored goods without taking too much time.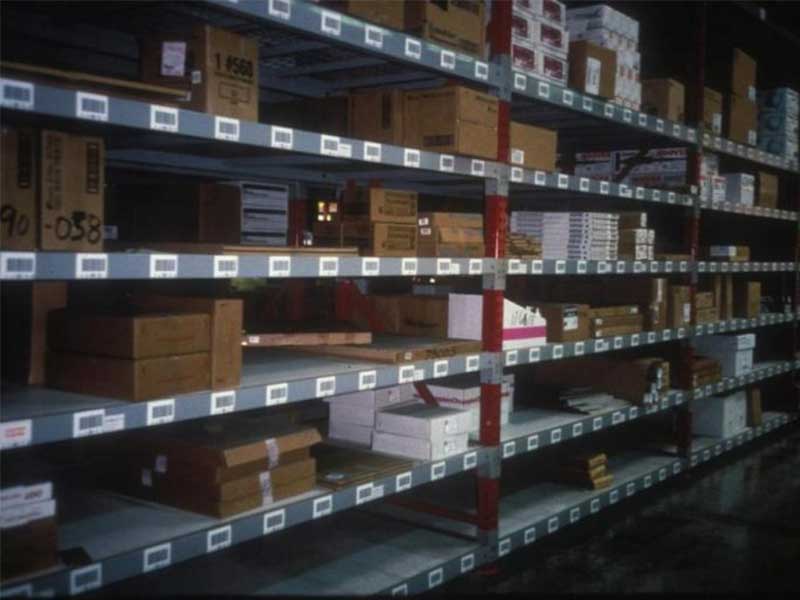 Further Reading:
Solutions to reduce falling objects from the mezzanine
Tips on how to assemble a wire shelf
The necessity of training employees on shelf inspection
Cantilever pallet racking can do wonders for your business warehouse
Guidelines for the use of long-span shelving
---
Post time: May-12-2022