Cantilever racking is particularly suitable for handling long and heavy loads such as wood, slabs, concrete, aluminum, steel profiles, countertops and laminates, tubes and heavy pipes, etc.
All of the above items are not only heavy, but can be very long, so they need to be stored correctly and safely. Having them up in the workplace is not safe, so for most businesses that contain oddly large items, installing cantilevered racking is a must.
The benefits of cantilever racking are obvious, not only are they easy to store and capable of storing long, heavy items, but they save time and money, reduce the possibility of injury from improper storage errors, and can provide support for up to 5,000 kg per arm!
Safety comes first in any warehouse or industrial storage area, including cantilever storage. Given the heavy and bulky nature of the load, you should be aware of the following points to ensure your rack is safe.
Ensure load stability
As cantilevered racks are designed for long loads, they need to counteract load sag – which happens when the load is not rigid enough between the arms and sags under its own weight.
Forklifts can be equipped with special attachments to help support the load during placement or pickup. The design of the rack system is the best way to solve this problem. Adding more arms reduces sagging and helps the operator place and pick up faster and easier.
Regular inspection, repair and replacement
Due to the fact that cantilever racks are subjected to heavy loads and forklift impacts over time, they should be inspected and maintained regularly. Aceally's rack safety team recommends that inspections be performed at least once a year.
In case the rack has been impacted or damaged, inspect it immediately. Parts to be regularly inspected for replacement should include damaged components (arms, bases, posts) and any loose hardware or anchor bolts. Before using the rack again, you should unload any damaged areas for repair or replacement.
Increase aisle clearance where appropriate
Operational errors in the warehouse are difficult to accomplish avoid, but proper design of the rack system can reduce the probability of occurrence. One effective way to reduce the occurrence of accidents in rack system design is to identify where operators make mistakes and increase tolerance.
For cantilevered racking applications, the loads being transported are usually wide. This means that the driver has a wide load and may hit the outstretched cantilever. Allowing the operator more room could help them from hitting those outstretched arms and causing a potential collision.
Watch out for vertical impacts when loading and unloading
Train your forklift drivers regularly on the dangers of loading or unloading by slamming the cantilever. When placing a load, do not allow the weight to strike the arm at any speed. Loads should be placed gently on the arm in an evenly distributed manner. This means that the load should never be off-center, as it will apply uneven pressure to the individual arms. When unloading a load, do not push on the bottom of any arm above the rack being unloaded; this may eject the arm from the connector.
Outdoor Applications
A frequent use scenario for cantilever racks is outdoors. It's where you'll see it in tube yards or adjacent manufacturing facilities and other places exposed to the wind and elements. Many logging yards store tons of lumber, construction materials and lumber on outdoor racks, which are perfectly safe if the rack is specified and loaded in the correct manner. Some things to consider.
Anchoring:
If your rack is not secured to a stable surface, its capacity will be reduced. This often means it must be bolted to a concrete pad. Some outdoor applications feature rows of asphalt between rows of racks. Asphalt is not a stable surface and racks should never be secured in it. The quality of the soil in the lower pad can even be useful in very heavy applications.
Shelter Center:
A T-shed can be used to isolate the racks and their contents from the components (to a certain extent). You want to avoid snow and ice buildup on the rack, which can add a lot of weight to the system.
Elements:
Like anything made of steel, cantilever racks can rust. Even those racks with roofs and drainage systems can be exposed to the elements and ambient moisture. In some areas, very rust-resistant galvanized racks may be required. Galvanized racks are also suitable for any indoor application where chemicals, extreme cold or moisture may be encountered, such as refrigerators or chillers.
Wind:
Strong winds may affect your cantilever rack. If you store items outdoors, it is recommended that you use wind protection whenever possible. If not, a qualified engineer may need to determine the security of the application.
If you want to store long, heavy materials outdoors, it is always best to contact a qualified rack company for engineering.
E-mail: [email protected]
Mobile: +8615960833356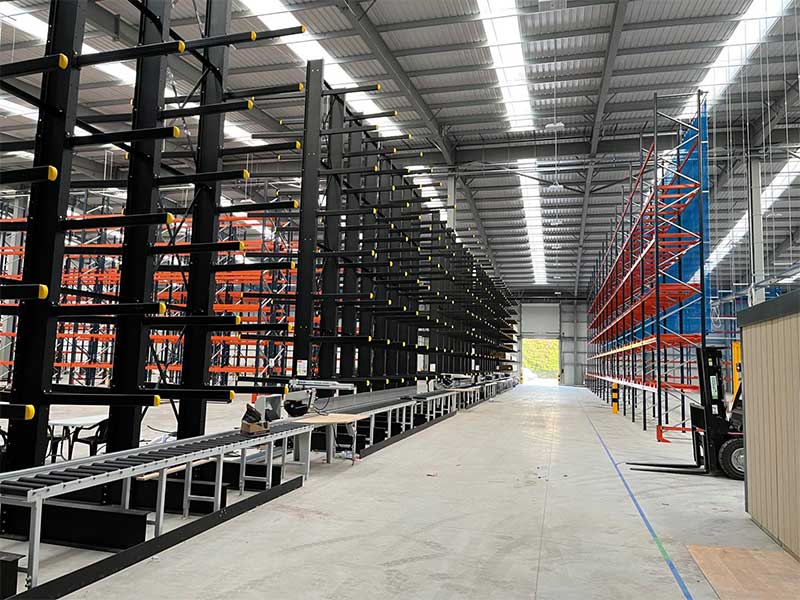 Learn More:
The Importance of Material Selection and Process of Pallet Shelf
How Do You Make Sure Your Wire Deck Can Handle the Weight of the Load?
Warehouse Slots: A Powerful Tool for Optimizing Storage in Your Warehouse
 Necessity and Precaution of Reconfiguring Pallet Racking
---
Post time: Jan-30-2023