Push-back racking system for efficient warehouse utilization
Product Detail
Product Tags
Push-back rackings, also known as push-in shelves, are mainly composed of trolleys, upright columns, support beams, guide rails, bearings, feet and other accessories. The operation principle of the push-back shelf is that the goods are placed on the trolley on the inclined track, and the goods are accessed by their own weight. The depth of the shelf should not exceed 4. When goods are not stored, the trolley on each floor can automatically slide down and be superimposed on the front end of each cargo position. This kind of shelf belongs to semi-automatic shelf system, which is higher in space utilization and access efficiency than common beam shelf, and greatly improves the operation efficiency of warehouse.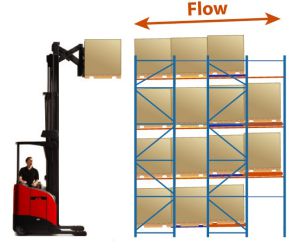 The push-back shelf has the following characteristics.
Principle of first in and last out: the push back shelf is composed of trolley, column piece, guide rail, tray and other structural parts. The trolley has flowable characteristics. The goods are accessed from one end of the shelf channel opening, pushed to the deepest cargo location by pressing in, and follow the order of first in and last out.
High space utilization: it is usually used in occasions where the storage space is extremely limited, but the storage capacity must be increased or there are time requirements for goods, etc. Due to more storage spaces and fewer channels, the space utilization and operation efficiency are high.
Application of push-back shelving
Push back shelf is suitable for "small variety and large batch" goods: forklift is used for access without special equipment. It is suitable for access of goods with single variety and large batch. It is commonly used in cold storage and small-scale warehouse.
---
---
Write your message here and send it to us