Mobile dock ramp which is used in the place without loading and unloading platform or where loading and unloading of goods need to be carried out by mobile. If there is no loading and unloading platform at the logistics site, as a remedy, the mobile boarding bridge is one of the most suitable solutions.
The mobile boarding bridge is equivalent to a moving steel ramp, and the forklift can also directly drive into the interior of the truck compartment for bulk loading and unloading operations. Only one person operation, no power supply, can realize the safe and fast loading and unloading of goods. Not only can make you reduce labor intensity, but also can double the efficiency of loading and unloading operations, speed up the flow of materials, obtain greater economic benefits.
Aceally mobile dock ramp advantage
The table is made of special hollow steel lattice plate with reliable strength, can ensure long-term use without deformation. Its toothed structure fully guarantees excellent anti-skid performance, so that the forklift has better climbing and maneuverability. Even in rain and snow, it can still be used normally.
● Adjustable length of cable chain can easily hook the truck, so that the boarding bridge and the truck always closely fit.
● Using the hand hydraulic pump as the power, without the need of external power supply can easily achieve the height adjustment of the bridge.
● The brake pad can effectively prevent the truck from moving during loading and unloading.
Our hot sale mobile dock ramp(8 Ton) specification as below:
| | | |
| --- | --- | --- |
| 1 | Parts | ACL 8T(Mobile dock ramp) |
| 2 | Dimensions | 11100mm(L)*2100mm(W)*1100mm(H) |
| 3 | Forklift suspensive board | 3000mm* 2100mm |
| 4 | Loading weight | 8T |
| 5 | POWER | Manual |
| 6 | Adjustment range | 1100-1800mm |
| 7 | Guardrail height | 200mm(40*60*3mm rectangular tube) |
| 8 | Main grider | 160*80*5 rectangular tube,and 5 main grider |
| 9 | Vice-grider | 100*50*4  rectangular tube |
| 10 | Hydro-cylinder | Φ80*Φ50(2pcs) |
| 11 | Hydraulic pipe | 32Pma Hydraulic pipe |
| 12 | Tire | :600-9 (solid tires) |
| 14 | Color | Blue,electrostatic spray |
| 15 | Self-weight | About 2580kg |
Why Choose  Mobile Dock Ramp From Aceally?
Aceally group with more than 20 years experience for warehouse storage equipment. We have full confidence to make you and your customer satisfy.
We also have pallet racking; Wire decks; Long span shelving; wire mesh container; transport cage trolley;
If you interest, please contact me to get catalog by the below ways.
E-mail: [email protected]
Mobile: +8615960833356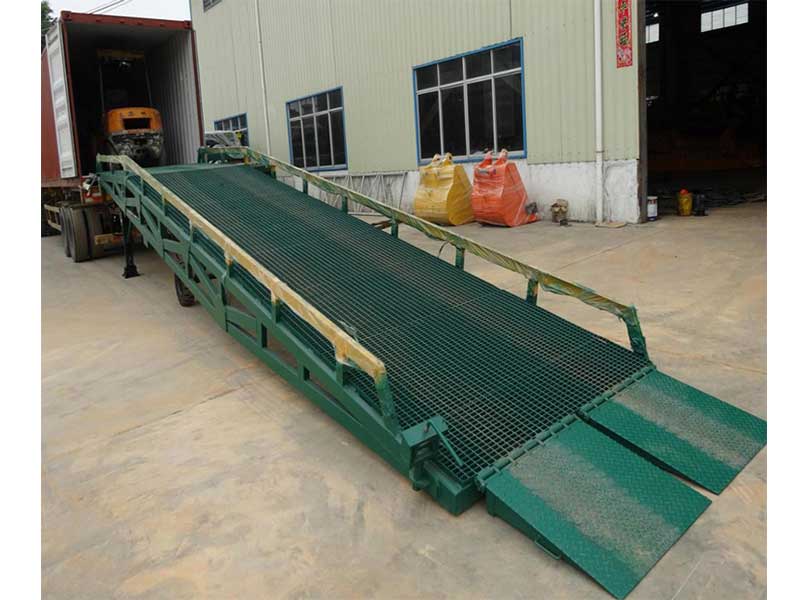 Learn More:
Why You Should Invest In A Racking System For Commercial Storage?
How to store tire racks efficiently in the warehouse?
What is the difference between shelving and racking?
Four advantages of long-span shelving
Heavy Duty Electric Mobile Racking System
---
Post time: Nov-29-2022