Very Narrow Aisle Pallet Racking System
Product Detail
Product Tags
Principle of Narrow Aisle Pallet Racking:
The main part of the narrow aisle pallet racking is a selective pallet racking system, the difference is that a three-way stacking forklift moving guide rail is installed on the ground at the bottom of the racking. The guide rail of vna pallet racking usually adopts unequal angle steel.
The material handling very narrow aisle forklift trucks are limited to a special three-way stacking forklift. The three-way stacker truck slides along the established guide rail. The width of the stacking channel of the pallet racking system is slightly larger than the width of the pallet goods, so the high-density storage demand can be realized.
At the same time, the vna system inherits all the advantages of the cross beam selective pallet racking system. All the materials stored in the pallet racking system are 100% optional. The narrow aisle forklift can store any pallet of goods at any time.
Fast storage efficiency and very high storage density bring remarkable production efficiency and cost-effectiveness for the storage and logistics center which is suitable for the very narrow aisle pallet racking.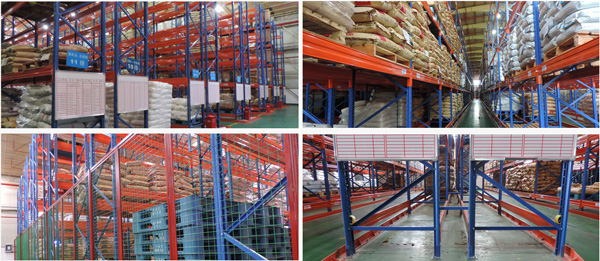 Applications of Narrow Aisle Pallet Racking:
1. The quantity of goods stored is large, the goods in and out are frequent, and there are high requirements for goods selection;
2. The storage and logistics center needs to increase the number of storage spaces or have a certain amount of storage;
3. Logistics efficiency requires a high level;
4. The available net height of the storage warehouse is higher than 8m;
5. The forklift can be independent storage very narrow aisle forklift. It is not planned to use the storage forklift to drive out of the room for other tasks.
---
Previous:
VNA Very Narrow Aisle Racking System
---
Write your message here and send it to us