Warehouse Narrow Aisle Racking System
Product Detail
Product Tags
The narrow aisle racking system is one of the heavy duty racking systems. Compared with the general heavy duty pallet racking system, the narrow aisle pallet racking system only need 1.5m to 2m, while the general heavy duty storage racking need 2.8m to 4.5m. Therefore, the space utilization ratio of narrow aisle racking is about 40% higher than that of storage racks.
Narrow aisle racking must be used with a three-way forklift. Due to the restriction of the ground track, the forklift can only move parallel to the aisle. When storing and storing goods, the operation function is realized through the movement and turning of the front fork.
In order to restrict the displacement track of the three-way forklift in the narrow aisle and prevent the forklift from colliding with the racking system, the passage of the narrow aisle racking must be paved with the ground guard rail. Due to the existence of guard rails, the goods at the bottom of the rack cannot be stacked directly on the ground. The bottom crossbeam shall be erected and its height shall exceed the height of the track.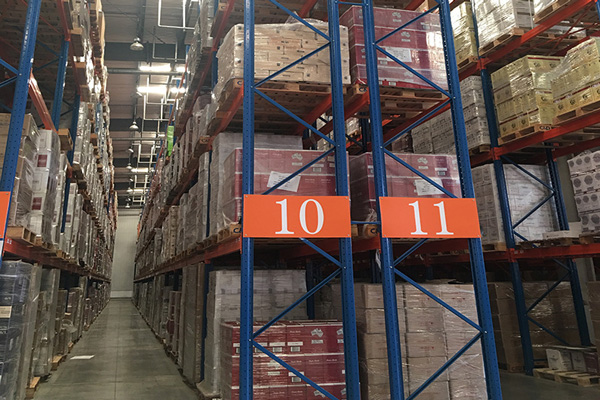 The channel guard rail of narrow aisle racking is made of thick steel plate, which is bent and fixed on the ground of the warehouse with expansion bolts. The corner of the guard rail is required to make an arc shape, which is convenient for the three-way forklift. The reasonable design and installation of the guard rail effectively improve the safety of the narrow aisle racking system.
The structure of narrow aisle racking is similar to that of conventional selective pallet racking. The difference is that the ground guide rails must be set on both sides of the passage or on the ground as the driving guide of narrow aisle forklift. It can make full use of the warehouse area and height and greatly improve storage efficiency.
Narrow Aisle Racking Characteristic:
● The column plate and the beam are connected by the way of hanging. The main and auxiliary frames can be freely combined and connected, which is convenient for disassembly and assembly.
● It is convenient to access and select and is suitable for the mass storage of various goods.
● The ground is required to be flat.
● Suitable for bearing less than 1500kg per pallet
● Standard colors: blue, orange, yellow and customized.
---
Previous:
Very Narrow Aisle Pallet Racking System
---
Write your message here and send it to us