Warehouse very narrow aisle pallet racking storage system
Product Detail
Product Tags
VNA pallet racking system
Very narrow aisle racking, often referred to as VNA, is an effective way to increase pallet storage in a given area for warehouses where space is at a premium, with the advantages of selective racking.VNA racking uses adjustable pallet racking (APR). By reducing the aisle width to between 2.7 and 1.6 meters, it provides storage space for a higher concentration of pallets. The system requires special forklifts that reduce aisle space by at least 40% compared to conventional forklifts. The system still offers 100% product selectivity and utilizes vertical space for pallet storage.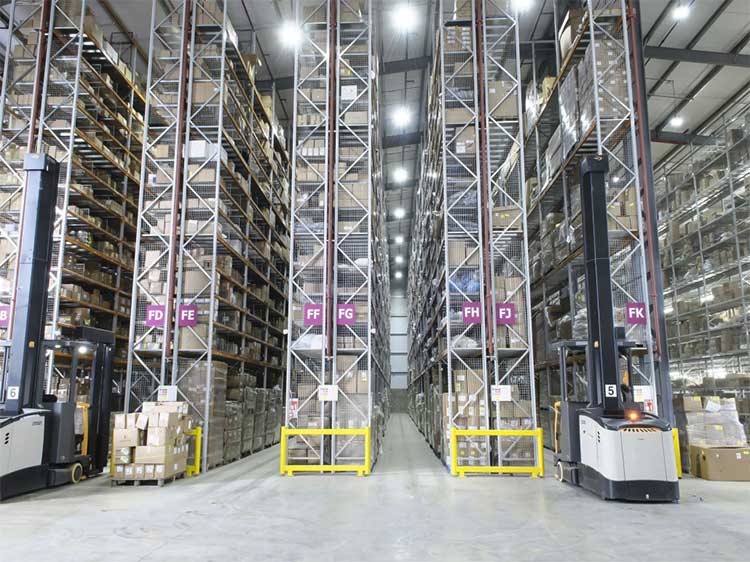 VNA system advantages
● Higher space utilization compared to other pallet storage systems as more can be installed.
●100% product selectivity.
●System operates in a FIFO inventory rotation.
●Up to 50% reduction in aisle width compared to wide aisle racking.
● Less damage due to narrow aisle forklifts usually guided by wires or rails.
Common Uses
VNA solutions are versatile and can meet a wide range of operational needs. However, they are particularly suited for warehouses that require
● Dense storage with a smaller footprint
● Direct and immediate access to each unit load, but also need to optimize available space
● Storage for products with different unit loads and sizes
Increase storage space with very narrow aisle racking
● Ultra-narrow aisle pallet racking provides direct access to all unit loads, offering 100% selectivity due to full accessibility.
● Optimize available space by reducing the width of working aisles, thus saving up to 40% of total space.
● VNA provides greater warehouse storage capacity by compressing the adjustable pallet racking system, which can then be fitted with additional pallet racking bays.
● VNA racking optimizes the building cube by making better use of space in high places.
● Very narrow aisle provides a flexible solution with easy assembly, disassembly and adjustment of load levels, thus it allows the operation to adapt to changes in storage requirements.
● Ultra-narrow aisle pallet racking is suitable for any type of goods, by weight or volume.
● VNA allows pallets to be stored on the floor at the lowest level of the rack.
● VNA also allows the conversion of ultra-narrow aisle pallet racking systems to automated storage systems.
---
---
Write your message here and send it to us