Drive in Storage Racking System
Product Detail
Product Tags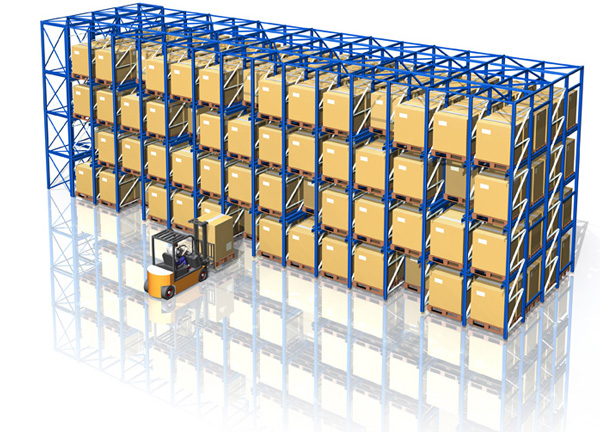 The main structure of drive in racking system:
1. Upright, 2. Top beam, 3. Top bracing, 4. Bracket beam, 5. Bracket, 6. Guide rail, 7. Protector, 8. Back bracing.
Features of drive in racking system:
● Access mode can be divided into FIFO and FIFO.
● The forklift guidance at the entrance of the passage makes it easier for the forklift to enter the passage.
● Reduce storage space and cost. Deep channel and large inventory.
● The bracket structure saves space, increases the clear space of the passage, and also avoids the damage of goods as much as possible.
● Welding bracket beam to prevent being pushed by forklift, safer.
● No large forklift access required.
● Storage is more intensive than traditional selective pallet racks.
● Customized for pallet and forklift.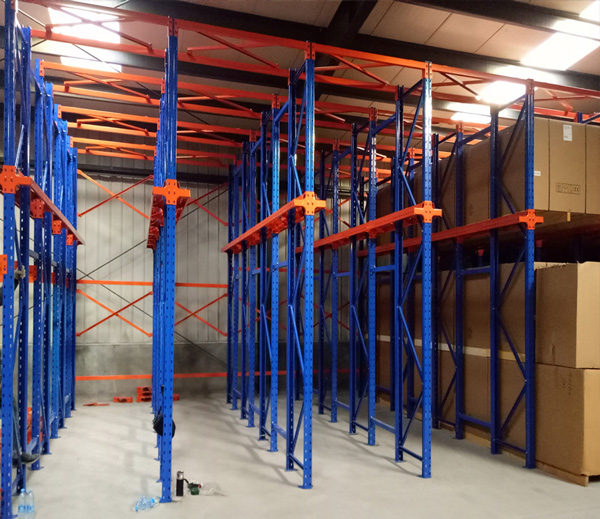 Advantage of drive in racking system:
1、Save warehouse space
High density drive in storage structure can minimize the waste of space use.
Example: store 900 pallet bits.
● General pallet racks: The whole warehouse is required to be 30×20 ㎡.
● Drive in racking system: only 40% space, i.e. 14×18 ㎡.
2、Multiple access modes
Drive in / through racks are suitable for a large volume of goods. According to different purposes of storage management, it can be the first in first out (FILO) mode or the first in first out (FIFO) mode.
FILO is applicable to commodities with long-term or no warranty period, such as electronic products, clothing, and shoes, office supplies, tobacco, etc., while FIFO is usually used for commodities with a term, such as drugs, food, and beverage, etc.
3、Warehouse environment and storage objects
The size of the warehouse determines the layout of the drive in rack system, including the length, width and height of the warehouse, and the location of the doors, columns, power supply, fire fighting facilities, etc.
Storage objects also affect the selection and layout of the drive in storage racking system. For safety reasons, the total height of drive in / through racks should not exceed 5 floors (usually 7 meters / 24 feet) The depth of the channel shall not exceed 7 storage units (usually 9 meters / 28 feet), and the weight of the pallet shall not exceed 1100 kg (2400 pounds).
4、Matching forklift truck
The width, maximum lifting height and turning radius of forklift affect the selection and layout of drive in racks.
---
Previous:
Carton Flow Racking Systems
---
Write your message here and send it to us