Foldable all-metal storage cages for shelving
Product Detail
Product Tags
The concept of storage cage
Storage cage, also called wire mesh container,warehouse cage, is a very important class of logistics containers in storage and transportation, with the advantages of fixed storage capacity, neat stacking, storage at a glance, easy inventory count, etc., but also to improve the effective utilization of storage space. Storage cage can be freely folded, when not used can also be folded storage, save warehouse space. 
Specification of storage cage
Cages commonly used standard specifications are: 1000 * 800 * 850, other specifications can be customized, the two specifications are with wheels and without wheels.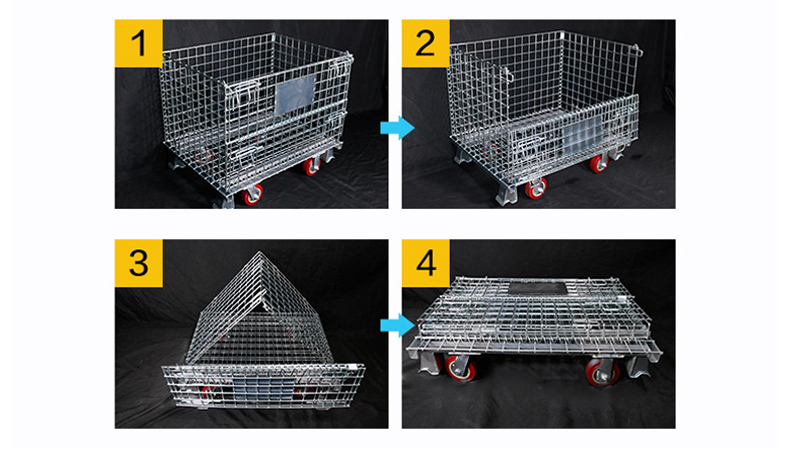 Features of storage cages
1. Made of high quality steel welded by cold rolling hardening, high strength and large loading capacity. 
2. Uniform specifications, fixed capacity, easy to store goods at a glance, easy to inventory inventory. 
3. The surface is galvanized, beautiful and anti-oxidation, long service life. 
4. Adopt international standard, can be used with containers, effectively improve space utilization. 
5. It can be stacked four layers high with each other to realize three-dimensional storage. 
6. Surface environmental protection treatment, health immunity, turnover, storage and recycling are not polluting the environment. 
7. With forklift, ground cattle, lift, crane and other equipment can be efficient operation. 
8. Folding structure, low recycling cost, is an alternative to wooden packing boxes. 
9. Wheels can be installed at the bottom, and it is extremely convenient to turn around inside the factory.
---
Previous:
Heavy Duty Pallet Racking For Sale
---
Write your message here and send it to us
Products categories